Men's fashion has been changed day by day. Where cultural outfits have their worth, modern wear-outs also have their pace opt for men. Like, men's crop top is assumed as a trendy dress code that has been worn since the 1970s. However, wearing a different dress style may attain a different outlook. Not all, but a majority of the men like to wear this fashion outlook. But there is too necessary to know how to make men's crop top in a versatile way. So, if you want to know this, read this guide till the end. 
Here, you can find of making a crop top in generally two versatile ways. One is the transformation of an old T-shirt into a small belly shirt even without sewing. While the other way is to make this shirt by properly sewing it. 
How to make men's crop top without sewing
There are more than one modes to make a crop top. You may move it to your tailor for stitching. However, you can also transform it your own. Let's move to follow the unique ways to make men's crop tops without sewing.
#1. Choose an old T-shirt to transform into a crop top
To make the men's crop top, you may take an old T-shirt or take another piece of blended fabric. But it's better to opt for your old and used shirt. When you choose a shirt, you have to keep in mind some points. One of them, the shirt is somewhat loose enough that when you wear it, you may feel breezy. Avoid taking the most fitted outfit. So, try some tees and select the one which you want to transform into a crop top. 
While choosing an old tee, you have to tackle the color combo as well. Because not each style suits each color and printout. So, consciously choose the tees which you want to make a crop top for men. However, color and designs choice varies from person to person. Thus, an outfit comes in a trend and makes a fashion of that age. 
#2. Figure out the length of the crop top
To identify the appropriate length for a men's crop top, you have to put on a shirt and look at the mirror. Thus, you may figure out that how much length of the crop top you want. For this, fold the bottom of the tee above to the belly button until you attain the desired length. 
Once you identify the length of the top, you have to take chalk or any marker and mark the length of the tee. When you want to make a men's crop top, so an ideal length is considered, just above the belly button. Not too long, not too short. An average length sounds more appealing. So, try to be original and carefully identify the length. Because once the shirt is cut down, then nothing can be done with that tee. 
#3. Cut out tee at the bottom as per you choose the length
Once you select the desired length of a T-shirt to transform into a top. Then you have to cut it down. To cut the tee, follow the given instruction as below;
Remove the shirt from yourself

Lay it down on a flat and hard surface, as on the floor or a table

Smooth out the shirt that no bump in that 

Identify the mark on the shirt where it has to be cut down

Take scissors and cut the bottom of the tee following the mark

Make sure the cut will be into a straight form, with no jabbed edges 
Thus, you will cut your old T-shirt, surprisingly transform it into a crop top in a versatile way. Just follow the whole instructions. And adopt a trendy look in this society of great hustle. Where anyone wants to supersede over another, even in fashion and style.
How to make men's crop top by sewing
As discussed before, you may transform an old tee into a crop top or sew a new one. So, you have learned about the unstitch method of making a men's crop top. Now you will come to know that how it can make by moving a jersey cloth or your desired fabric undergoes a sewing machine. So, see the given directions and turn a piece of cloth into a crop top.
#1. Choose a stretched fabric of around 1 yard
Firstly, you have to opt for a stretched fabric, like a jersey. Because the stretchy fabric ideally fits your figure. Accordingly, you have to avoid any bulky or rigid piece of cloth, like velvet, wool, or any such kind of heavy fabric. Then do its measurement of around 1 yard. Because you have to make a crop top, so this is enough size to make it. 
Colors and DIYs are also as per your choice. For girls, bright prints usually opt for. However, in the case of men's crop tops, generally, one color fabric suits more. Especially black, white, or any other solid color. Besides, if you want to contrast with classic jeans. That will also be an amazing combo. 
#2. Measure the circumference of the bust, waist, and arm 
To make a crop top best fitted to your figure, accurate measurement is necessary. So, take a measuring tape and start to take appropriate measurements of the fabric. For making a crop top, you don't measure as a whole. Just measure the bust, waist, and upper arm.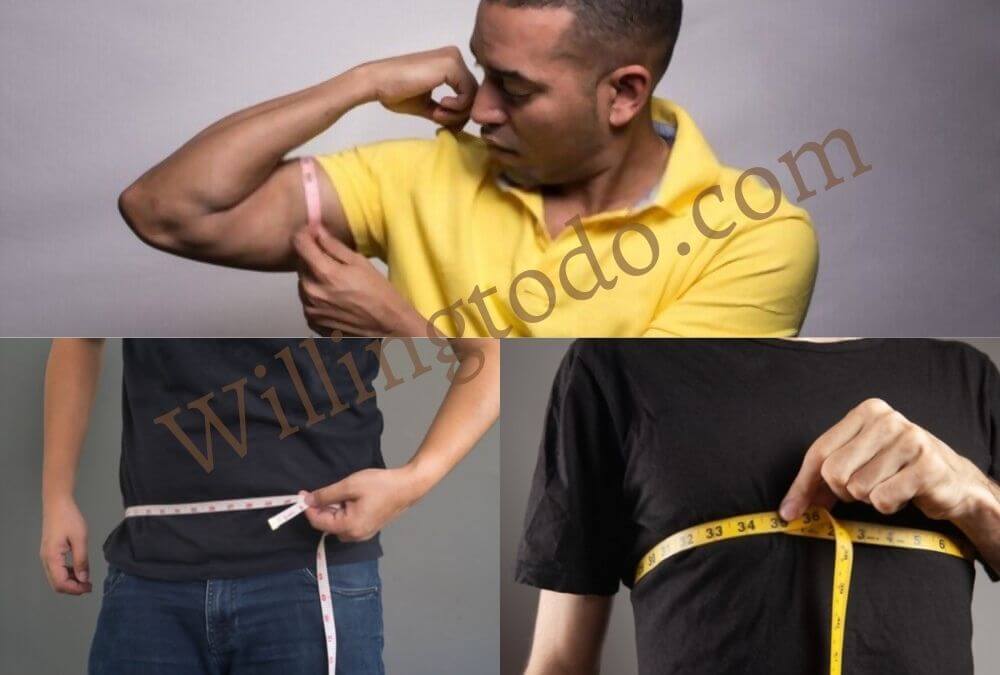 To measure the waist, first, you have to identify the length of the top. Once you select the ideal length of the top, you can measure the waist at the bottom line. In addition to this, measuring bust is also essential. For this, you have to round a measuring tape around your waist and note the size. Then mark on the fabric that has to transform into the men's crop top. 
When you measure your waist and bust size, then take the size of your upper arm. For this, you have to round up a measuring tape around your arm and mark the size. Thus the main objects to sew a new crop top have been measured authentically. 
#3. Cut the fabric as per the measurements of your desired top length
When you have taken all the required measurements, then cut the fabric accordingly, that you have to make a men's crop top. Overlap your fabric in a half and draw a square shape on it that is a large portion of the width of your bust estimation on 1 side and a large portion of the width of your abdomen estimation on the opposite side. The square shapes ought to be the length of the distance between your bust and abdomen.
#4. Cut out pieces for sleeves
To make the sleeves of the top, fold the fabric and cut it in a rectangular form. Keep the size as per the arm circumference for your desired sleeves. Then, cut along the lines to get two equal-sized pieces. You may adjust the length of the sleeves as you want, either long or short. Whether you set any size of your arm length but around 1 inch means 2.5 cm has to add more in each measurement, if you have to hem the fabric. Follow the lines you have drawn on the fabric to ensure that you cut it evenly. 
#5. Cross stitch in a zigzag way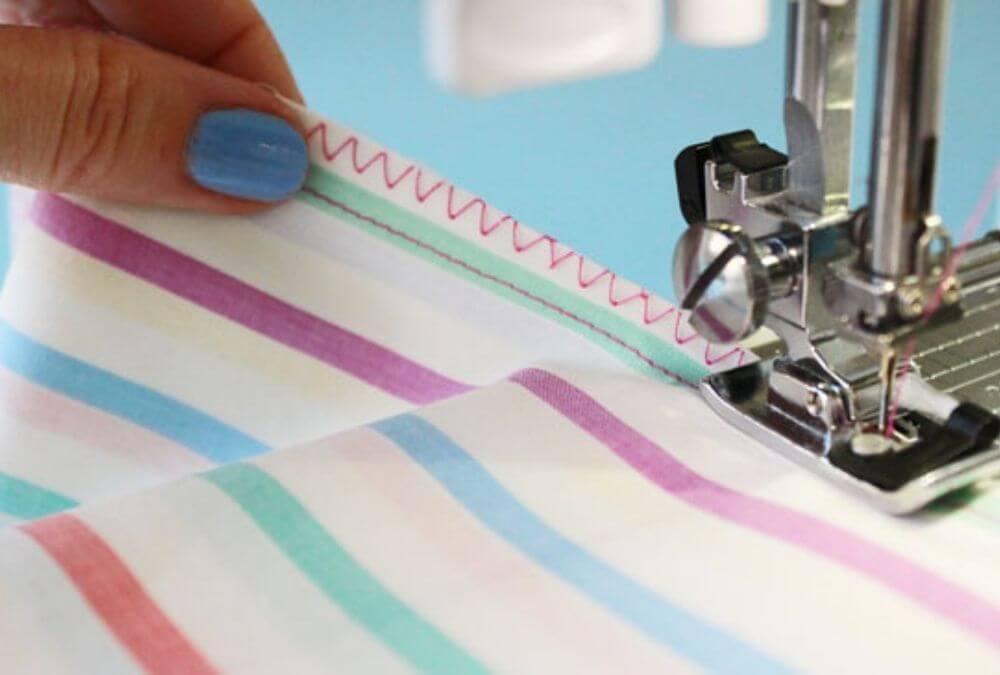 If you want to get a meritorious look with a men's crop top, then stitch it with a zigzag pattern to secure either side of the body piece. Pile up the two fabric pieces so that the edges are even. Whereas the wrong side of the cloth is facing out. After that sew a zigzag stitch 0.5 inches from the edges of two pieces, which will be the sides of the crop top. Sew in a zigzag section is an ideal way that will stretch the fabric while wearing the top.     
As with the whole cloth sides, fold the sleeves too, and stitch in a zigzag manner. For this, first, fold each sleeve in half and sew it in a zigzag pattern under the sewing machine. Then, take 0.5 inches from the raw edges of the fabric. Thus, both the sleeves will secure in a circle. If you want the sleeves trimmed off, you may put another hem over the zigzag seam. When you complete the whole seam, cut the extended threads from the edges. 
#6. Attach the sleeves to the crop topsides
The final step in making men's crop top is the attachment of the sleeves to both sides of the top. For this, with the body and sleeves turned inside out. Then match the corner of one sleeve's inner seam with the top corner of the crop top. Where the sleeves and the body piece overlap with each other, sew here a straight stitch in either square or diamond shape. Once you finished the heam, cut the excess thread from the edges. Then try this elegant crop top. 
FAQs:
Is there any specific shape of a crop top?
Generally, there are not any restrained in shape and style of the crop top. Whether it was worn by men or women. But for males, some standard designs are in the most common trend. Like a crop top with full sleeves. For men, dark colors of fabric especially, such pop styles attire more than women. 
What's the casual design of a men's crop top?
As I discussed before, that men's fashion has changed to some extent. In this current era, people want to attain a different look among a herd. So, the men's crop tops give them somewhat casual wear along with a stunning look. Usually, the simple stitched fabric is a particular design for the crop top, which consists of a short body top above the belly button. And two sleeves attach to the body as per your desired length. 
Can a men's crop top be worn in any event?
Not all dresses are made for the same purposes. Some outfits are fit for the events, while some are used for casual wear. Accordingly, the crop top may somewhat look odd in major events. However, a men's crop top is informal wear out. So, keep it for just casual wear. Nevertheless, if you have a fancy crop top, then men can wear it on camphire occasions.