Massive corporations work with large amounts of data in their daily operations. Business intelligence implementation is a great way to unlock the full potential of your data, revolutionizing your internal operations and transforming your weaknesses into strengths. In this article, we will tell you everything about the types and benefits of BI and important implementation steps.
Business Intelligence: What Is IT?
Business intelligence refers to the tools and technologies that help organizations better understand their data to make more informed decisions. It is crucial to any business strategy to increase productivity and gain market advantage. With businesses becoming increasingly competitive, many entrepreneurs rely on BI intelligence solutions for an extra edge.
BI solutions provide methods for collecting and organizing data from various sources to gain insights from big data. This includes predictive analytics, text mining, statistical analysis, and other advanced data analytics techniques. Through these analytics processes, valuable insights can be gleaned from customer behavior, target markets, purchasing patterns, operation strategies, and more – all information used to craft personalized services for customers and cater services to meet their needs better than competitors. Business Intelligence can be used in a multitude of industries, for example as warehouse automation technology. Furthermore, implementing BI helps businesses predict future trends in the market, leading them to grow their revenue and sales with efficient strategizing. It comes as no surprise that worldwide BI market value continues to see growth year after year.
Business Intelligence Main Types
Business intelligence combines software applications and data warehouses to interpret diverse data components to help organizations make better-informed decisions. This set of applications can satisfy different needs, from analyzing customer sentiment to tracking performance indicators. Some common business intelligence tools include ad hoc analysis, online analytical processing (OLAP), data mining, and predictive analytics.
Ad hoc analysis enables users to explore relationships between variables without having any predictions or assumptions. OLAP is usually the first BI technology adopted, as it allows the examination of data along numerous dimensions such as region, product type, etc. Data mining allows users to extract patterns from large sets of transactional data, which can be used for marketing initiatives or fraud detection processes. Predictive analytics involves using historical and current data to identify future trends that might cause businesses significant losses if not proactively addressed.
These business intelligence tools can offer valuable insights that could help a company become competitive in a crowded marketplace. The challenge often arises in utilizing all this available information and bringing forth meaningful conclusions that drive organizational results.
Why Use Business Intelligence
Business intelligence is a revolutionary system that harnesses the power of data to unlock the secrets of success for businesses, guiding them toward making informed and game-changing decisions. BI systems are like super-powered detectives that can track performance, uncover trends, and reveal the secret desires of your customers, all while helping businesses reach their full potential.
Detect methods to raise profit:

BI can help businesses identify areas to improve their profitability. For example, BI can track sales trends, identify the most profitable customer segments, and compare prices with competitors.

Study client behavior:

BI can be used to study customer behavior, for example, what products they buy, how often they buy them, and how they interact with the company's website or app. This information can be employed to improve customer service and marketing campaigns and provide new products and services.

Compare analysis with the competitors:

BI can compare a company's performance. This information can be used to identify areas where the company is doing well and areas where it needs to improve.

Observe performance:

BI can track a company's performance over time. This information can identify trends, set goals, and measure progress.

Optimize workflow:

BI can be used to optimize a company's everyday operations and workflow. 

Make forecasts and proper decisions:

BI can make forecasts about future trends. This can help businesses make better product, service, and marketing campaign decisions.

Identify market trends:

BI can be used to identify market trends. This information can be used to develop new products and services, target marketing campaigns, and stay ahead of the competition.

Detect company's flaws and drawbacks:

BI can be used to detect a company's flaws and drawbacks. This information can improve the company's performance and make it more competitive.
BI is a game-changing technology that unleashes businesses' full potential, propelling them toward success, sharpening decision-making skills, and overcoming competitors. 
Why Business Intelligence is Important for Business
Here are some specific benefits of BI:
Enhanced Decision-Making: Leverage the potential of Business Intelligence to make informed and data-driven decisions, unlocking hidden opportunities and driving success.

Accurate and Enlightening Reports: With BI, access accurate and detailed reports that monitor your company's growth and achievements, empowering you to identify improvement areas and drive strategic initiatives.

Uncover Hidden Trends: BI empowers you to discover hidden trends and insights, enabling your company to conquer your industry confidently.

Efficient Resource Allocation: By tapping into valuable BI knowledge, strategically allocate resources to maximize efficiency and pave the way for sustainable company expansion.

Savvy Risk Management: Utilize Business Intelligence to identify and mitigate risks, safeguarding your data and protecting your company from fraud and unexpected disasters.

Streamlined Processes: Embrace automated processes enabled by BI, eliminating manual tasks and enabling lightning-fast decision-making for enhanced productivity.

Unprecedented Profitability: Unlock savings and enhance profitability with the power of Business Intelligence, minimizing wasteful spending and driving your company toward financial success.
Business Intelligence Implementation Steps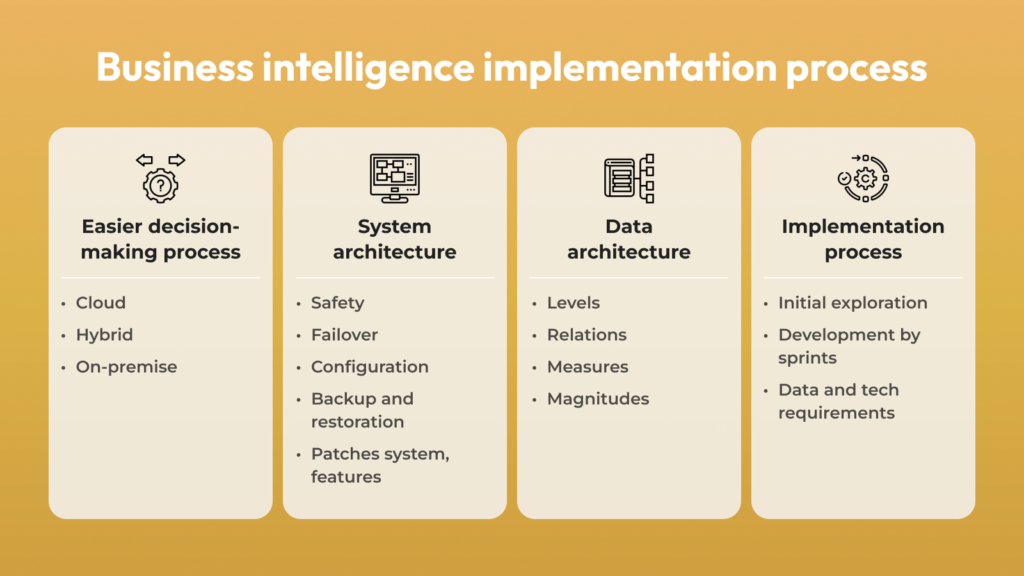 Defining Goals and Requirements: Prioritize your objectives for implementing BI, identify the necessary data to collect and analyze, and determine the types of reports and dashboards required to support decision-making.

Assembling a Competent Team: Form a dedicated team comprising individuals skilled in data analysis, reporting, and visualization, ensuring seamless integration of BI in your organization.

Thoughtful Selection of BI Software: Conduct a thorough evaluation of available BI options, considering your unique organizational elements, data requirements, and essential features to make informed choices.

Data Cleaning and Analysis: Ensure your data is accurate and well-organized by eliminating duplicates, correcting errors, and filling in missing information before utilizing BI capabilities.

Flexibility and Adaptability: Be prepared to adapt your BI solution to evolving business needs. Regularly assess if additional data sources, new reports, or dashboards are necessary to align with changing requirements.

Employee Training: Empower your workforce with adequate BI training, enabling them to leverage the system's full potential and make data-driven decisions to drive business success.

Unleashing Business Potential: Embrace Business Intelligence to uncover valuable trends, optimize processes, and unlock the untapped potential of your decision-making capabilities, paving the way for business growth and advancement.
BI Implementation Cost
Embarking on the transformative Business Intelligence implementation journey requires significant time, resources, and expertise. The costs vary widely, influenced by project size, complexity, and data resources. A harmonious symphony of intricate calculations takes center stage, seamlessly blending to create a breathtaking analytical masterpiece.
Integrating data from multiple systems may add to the overall cost, as ensuring compatibility and data cleanliness demands meticulous attention. Our dedicated team of specialists invests time and expertise in preparing and organizing vital information to ensure a successful BI journey. Additionally, the thrilling prospect of incorporating machine learning algorithms to achieve groundbreaking results opens up new possibilities. However, the level of sophistication aimed for can impact the project's investment.
In this dynamic world of BI, the interplay of cost-forming factors weaves the essence of project estimation. By understanding the nuances of these factors, businesses can better plan and allocate resources to embark on a successful BI journey and unleash the full potential of their data-driven decisions.
Author's bio:
Yuliya Melnik is a technical writer at Cleveroad. It is a web and mobile app development company in Ukraine. She is passionate about innovative technologies that make the world a better place and loves creating content that evokes vivid emotions.