Do you stuck in how to remove eyelash extensions? Because the eyes assume as the most beautiful and sensitive parts of the human body. They need more care than other areas. No doubt, eyelashes protect our eyes, but they enhance their beauty as well. Most girls having small and thin eyelashes use extensions over their natural lashes to get more length and volume. You can use them but with great care. Because as putting the eyelash extensions, removing them is also a challenging factor. Are you curious to know about how to remove eyelash extensions carefully, then scroll down and read this guide till the end? So, don't bother about this beauty hack.
Remove eyelash extensions safely at home
How to remove eyelash extensions seems somewhat more crucial. Your eyes are one of the most attractive organs that catch the attention of others. If you enhance your eyes' beauty by wearing eyelashes but you remain stuck with them to get off. Then you may follow some of the most easy-to-opt approaches to dissolve the lash glue and take off the extensions as mentioned below.
#1 Use Coconut oil to remove your eyelash extensions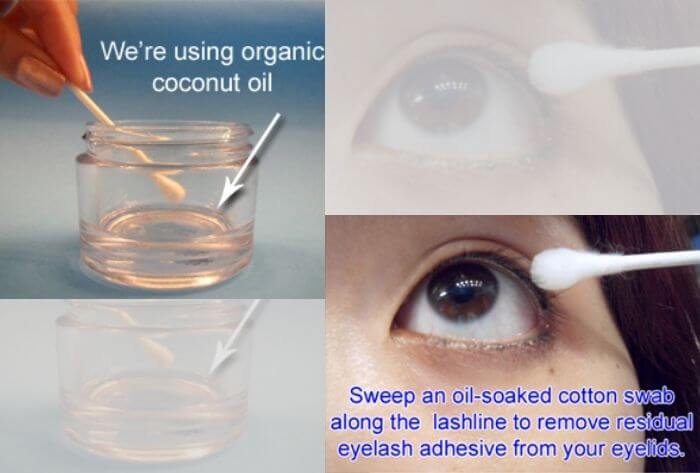 Coconut oil has multitasking features. That is not only used for cooking purposes but now more trendy as a make-up remover. It grants you a soothing touch and hydrates your skin. Moreover, it also nourishes your skin, especially around the most delicate areas on your skin, like your eyes. So, if you want to know how to remove eyelash extensions by using coconut oil, see the instructions…
For this, you need;
Coconut oil
Cotton pads
Q tips/ Earbuds
Eyebrow brush
Eye/ gel cream
Instructions:
First, dip the Q tip in the coconut oil and put a cotton pad below the eye, and brush the oily Q tip on the lash gently for a few minutes.
Now put take a cotton pad and put some coconut oil on it. Then swipe it over the lash extensions in the back and forth motion with soft hands.
While swiping, use an eyebrow brush to brush your lashes.
Then swipe your extensions again with cotton pads but more gently than your natural eyelash does not remove out from the extensions over your original lash.
So, you have to take patience while this procedure and continue swiping back and forth until the extensions do not remove properly.
After the whole extensions on your eyelashes have been removed, then scrape your natural lashes with an eyebrow brush.
Then, clean your eyes with a clean cotton pad to remove any lash hair mess on your eyes.
When you swipe your eyes for much time, you can use an eye gel cream to soothe your eyes.
Hopefully, once you are stuck with the said problem, coconut oil will be helpful in the understanding of how to remove eyelash extensions.
#2 Use Castor oil to take out your eyelash extensions
Like coconut oil, Castor oil can also use to remove eyelash extensions. That works for anti-inflammatory purposes and is very useful to treat irritating skin. But here, you will learn that how to remove eyelash extensions by using castor oil. For this, follow the directions.
Things you required;
Castor oil
Eyebrow brushes
Micellar Cleansing water
A towel
Some ice cubes /Ice pads
Lash serum
Follow the Steps;
The first step is to open the bottle of castor oil and dip the eyebrow /lash brush inside.
Then gently wipe the brush on the lash extensions in ups and down movements, just like using the brush on lashes while applying mascara on it.
Keep in mind that you must use the brush super gently, and the good thing is that castor oil prevents irritation. So, you can use this easily without any fret.
When you take out the extensions as a whole, then brush your natural lashes slowly.
Then, take some castor oil on your fingertips and even the lashes smoothly.
30 minutes later than this, rub your eyes using micellar water putting on the towel. It helps to remove oil from your eyes and promote hydration to your skin.
Then, take some ice cubes and put them on your lash line. This step relaxes you after extensive brushing of your lashes. It also gives you a soothing sensation.
In the last, use an eyelash serum on your lash line. That helps to improve your natural lash growth and become longer and attractive.
As you follow all of these steps, you can easily understand how to remove eyelash extensions carefully. Because using castor oil is a proven hack in this regard.
#3 Use any makeup remover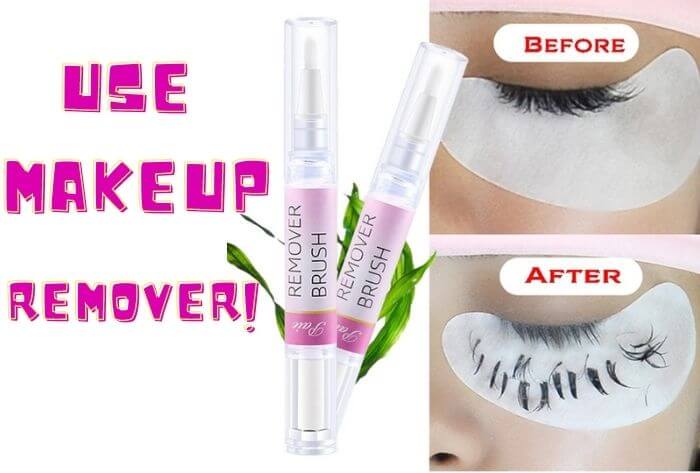 In common practice, you remove your make-up by any ordinary make-up remover. So, if you have a make-up remover, then you can use it to take out the eyelash extensions too. That means if you find an easy way regarding how to remove eyelash extensions, it will assist you a lot. When you remove these artificial eyelashes, then give your face a thorough rinse with clean water. After washing your face, you may apply a moisturizing lotion to nurture your skin.
#4 Use Olive oil for taking off the Eyelash extensions
To get the best answer on how to remove eyelash extensions, you can use olive oil as well in the place of coconut oil or castor oil if they are not available for you. It also proves very effective in taking out eyelash extensions. For this, you have to follow these easy steps.
Things you need;
Olive oil
Cotton pad
Q tip
Soothing lotion
See the Steps;
Take a cotton pad and soak it into the olive oil. Then close your eyes and apply to the lash extensions for 2-3 minutes.
After that, use a Q tip dipped in olive oil and apply it to the lash extensions. And move on the lashes away from the eyelid.
Continue the process until the whole extension is getting off.
Olive oil is proven the best skincare tool that eases removing eyelash extensions.
After finishing the process, apply any soothing lotion on your lash line to feel a relaxing sense.
Thus, you will get the best way among other remedies to know how to remove eyelash extensions. Because multitasking olive oil has specific characteristics to cope with several skin problems like the said issue.
#5 Take steam to loosen your lash extensions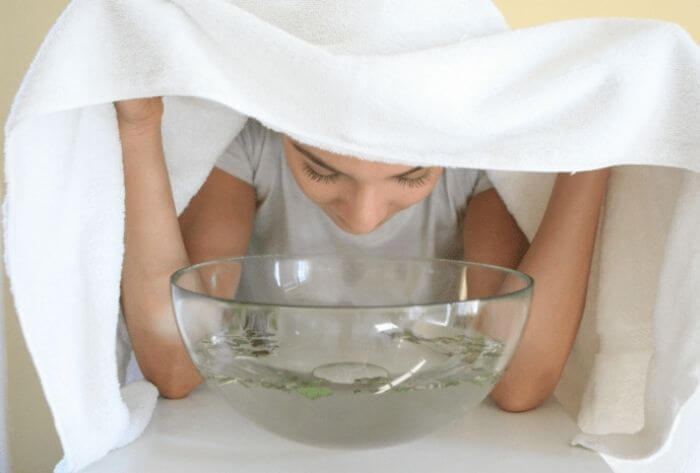 If you can't move for any oil cleansing method discussed above, then you can take steam in order to get aware of how to remove eyelash extensions. It is so simple and easy-to-access way to loosen your eyelash extensions. For taking steam, you have to follow such directions;
Take boiling water in a large-sized bowl.
Put your face over the bowl carefully.
Cover your head completely with a large towel.
Hold the posture for at least 10 – 15 minutes until the lash glue dissolves by steam, and thus extensions will get off smoothly.
Use a clean piece of cloth or towel to wipe your face.
Besides steam, you may take a hot shower as well that also facilitates dissolving semi-permanent glue and your artificial lashes can easily take out. Thus, you may sort out how to remove eyelash extensions carefully. Because it presumes the most effective method in this regard. So, take care of your eyes by choosing the best and effective means for eyelash removal.
Precautions:
Although, you have now enough info about how to remove eyelash extensions. But still, some precautions have to consider. Like;
Don't pluck the eyelash extensions.
Avoid using a tweezer or any sharp tool to remove your artificial lashes.
Always treat them gently and slowly.
Don't use your hands strictly or hardly.
Use cosmetics as per your skin type.
Try to use natural or herbal products because they have no side effects as such.
FAQs:
Is wearing eyelash extensions problematic?
Generally, it's not problematic to wear eyelash extensions. But you need more care for either wearing or removing them. Because your eyes are more sensitive than the rest of the body. Then you have to follow the rules of how to remove eyelash extensions, once you face any problem regarding this.
Can a bicep be used to remove eyelash extensions?
In certain cases, biceps can be used but mostly, you must avoid using any instrument for your eyes. So that severe consequences can be prevented. Otherwise, you must have ground knowledge of how to remove eyelash extensions.
Is it okay to more rub your eyes?
Generally, it is not encouraging to more rubbing your eyes. But if lash glue is stuck with your eyelash extension, then it can be done. After that, you can apply any soothing agent, like eye gel or any micellar cleansing water to get rid of any irritation.