Traditionally wearing a scarf is somewhat look common. But it can be carried on by various means, either worn as a belt or a hairband, like a bag or a wrap. But to attain a different look, you may tie it as a top too. So, if you don't know how to tie a scarf as a top. This guide will assist you more in this regard. Because in this age of social media, a trend has been seen more commonly in TikTok and Instagram users. They wear a scarf as a top in many versatile ways. 
How to tie a scarf as a top
When you want to attain a more fashionable look in this current era, then you can move to opt for tying a scarf as a top. Let's put a glance over some stunning top looks ever…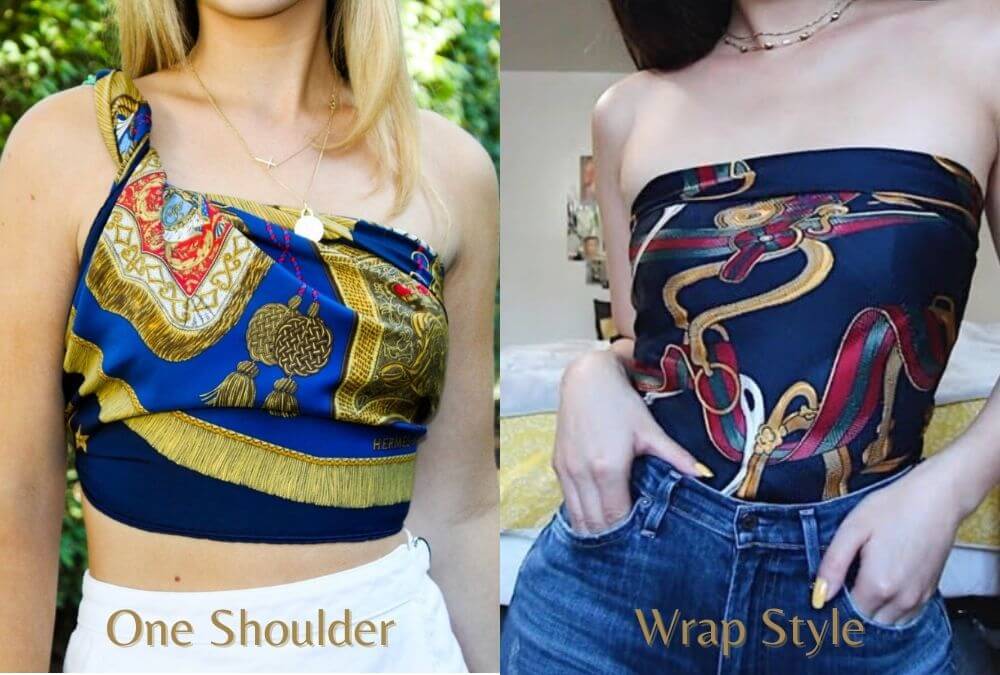 One-shoulder /Off-shoulder look
The most popular way to wear a scarf as a top is one-shoulder style. This is assumed as so easy and elegant style to opt for the summer. To wear the scarf in this style, see the directions.
Make a triangle of the scarf

Put one long side on your shoulder

Wrap the rest of the two sides around your back

Converge all three corners of the fabric on your backside 

Tie up all the corners 
Thus a beautiful one-shoulder top will turn your look more elegant and stunning. You may wear a strapless frock under the scarf, and make the center of attention in the horde.
Tie the scarf as a wrap
If you don't like a solid and striped model of tees or shirts, especially in the summer season. So, don't worry about that. Now a simple and stylish top is awaiting you. Just grab the instructions and try to make the wrap.
Take a casual scarf or your favored fabric

Make it a triangle

Simply wrap it around the body

Take it over your collarbone

And tie it behind the neck

Usually, it requires a long sarong style fabric to opt
Accordingly, the wrap style of the scarf as a top will grant you the best summer and beachy look. It will enhance your beauty and make the beach-theme party more awesome than others.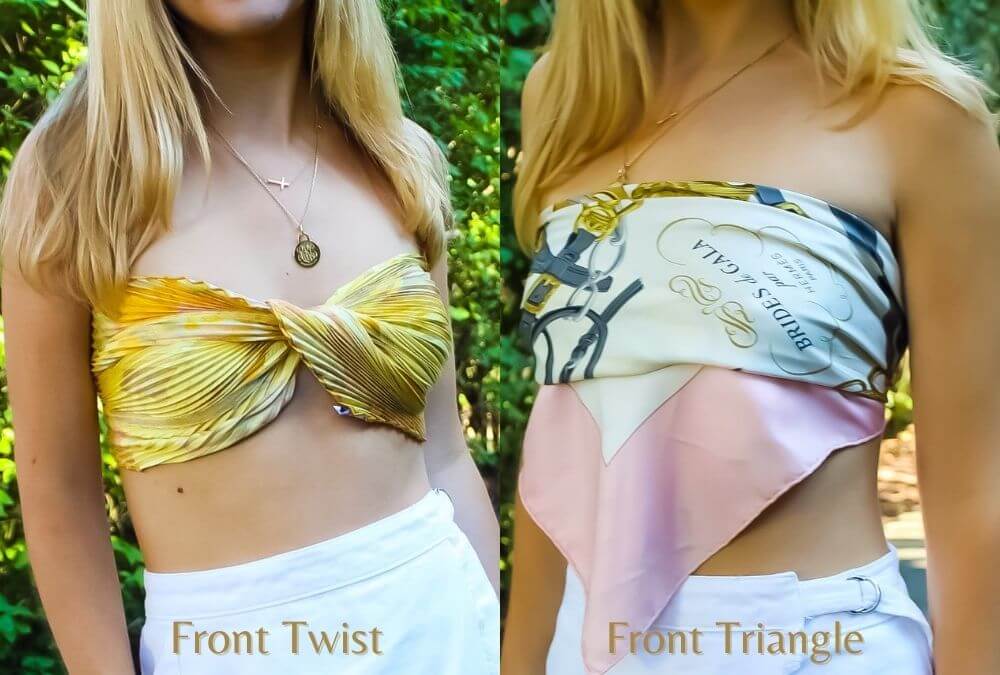 Front twist
The most easier way to wear a scarf as a crest is the front twist. In the summer, among the more comfortable outfits, it can be selected. While moving to the beachside or on summer island, this style lands you in a comfy zone. It's so simple as its name. Just follow the instructions.
Take a small size scarf

Twist it in the center

Wrap it around your breast

Take both of the corners of the scarf to the back, and tie off
Thus, a simple and minuscule top gives you a splendid look. Make it pair with trendy jeans.
See more on Scarf Top   
Front triangle
Another top style is to tie a scarf in the front triangle. You may adopt it occasionally. Mostly on sunny days, to beat the hot weather, wear the fabric in the front triangle form in a way.
Take a square scarf, and fold it in a triangle

Make a few frills of the scarf  

Wrap it around your back covering the whole trunk region

Keep the pivot corner of the scarf in front side of you

Tie the rest of  the scarf's corners backside
Wear your scarf as a top in this way, and make a beautiful, trimmed shirt.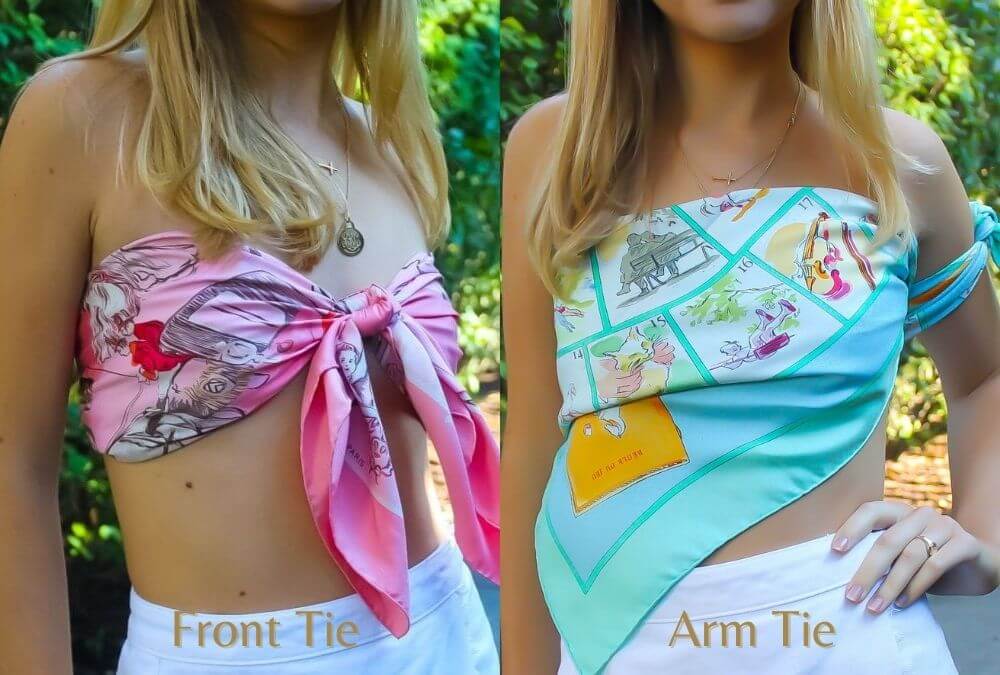 Front tie
If you don't want to move with the rest of the styles as discussed above. You might opt for the front tie. Because it's assumed as one of the most distinct styles of wearing a scarf as a top. But it depends on your mood;
To wear this stunning style,
Put a scarf in a triangular form

Wrap it around your breast from back to front

Tie the scarf as a knot on the front side
Thus, you may get your glance very distinct and glorious. Because the front tie style seems somewhat different look as you wear in this mode a scarf as a top.
Arm tie
To get another stunning look ever with tie a scarf as a top, you may tie your silk scarf on your arm by wrapping your body. This grants you so different and charming outlook. 
Take a scarf and make it a triangle. 

Put its middle corner at your body' one side

Take the other ends on either side of the body and tie off

The flanking ends of the scarf wrap around your arm and tie off there

Keep it straight on your body, and make it like a small shirt
Usually, arm' style is not so common. But this arm style makes you look so different and charming.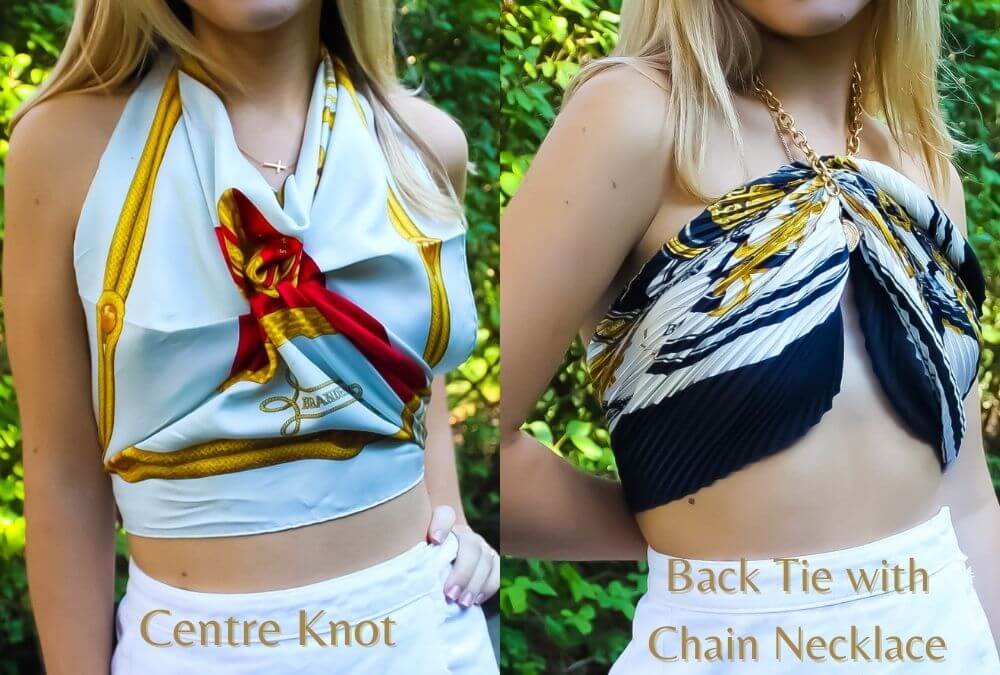 Center knot
Here is another fabulous style of wearing a scarf as a top. If you want to be a hub of fashion and style, but with an ensemble to feel simple and elegant look. You may go with the center knot. 
Take a square shape scarf

Pick it from the middle, and make a knot

Take the two ends of it and wrap it around your collar bone

Tie these two ends behind the neck region

Now take the other two ends of the scarf, and wrap them around your waist

Tie these two corners at your backside

Make sure the pivot knot of the stole keep in the middle of your chest cavity
Thus you may attain this amazing and simple style. You may opt for this look as party wear, your buddy's birthday party, or anywhere you want. 
Back tie with chain necklace
Some girls are affectionated with jewels. So, they can also wear the scarf along with the chain necklace. That's an awesome style to wear a stole as an upper shot. If you don't know that how to tackle this style of wear, so grab the directions as below.
Take a silk scarf, and enfold it to your chest 

Tie its ends at the back of your chest

Wear a chain necklace wrapping from the scarf in the center of the chest cavity

You may use clothing tape to prevent slipping under the stole
By opting for this style to tie a scarf as a top, you will get a different and elegant gaze among others.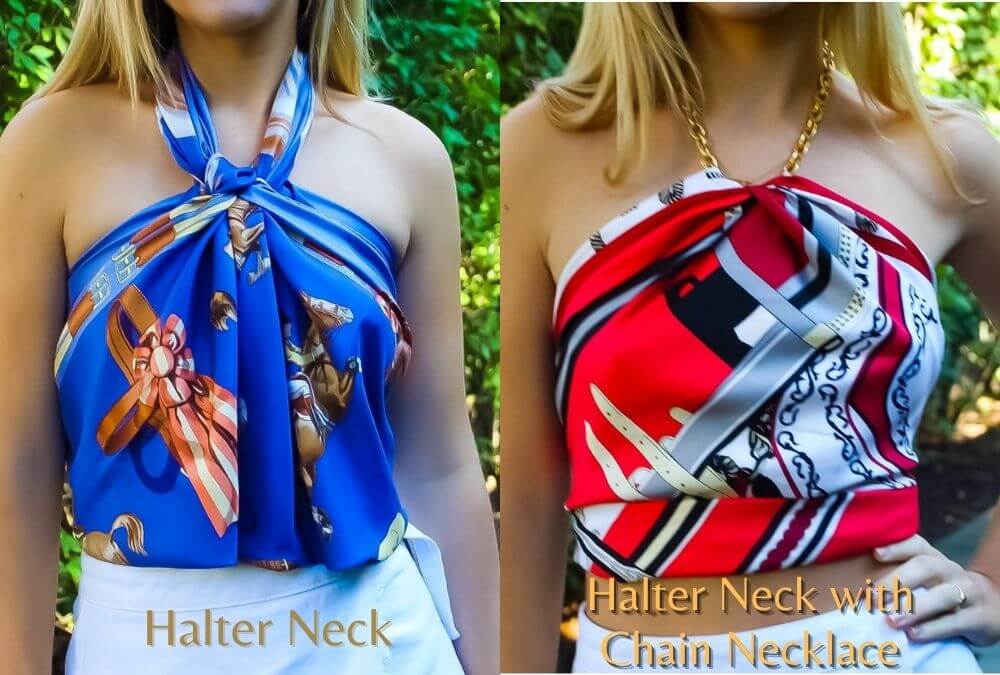 Halter neck
I'm presenting the most classic halter neck design to tie a scarf that beats a traditional top. It's somewhat easy and somewhat tricky. But easy to wear and carry for anyone.
Choose your favorite square scarf to wear as a top

Make it a triangular form

Grab its two side ends, and make a knot

Wear it around your neck

Take one of the ends from the center of the cloth

And go through inside the scarf as a knot

Then take the rest of the ends, and move them behind your back

Tie those ends around your waist  
Thus a classic halter neck will make your simple piece of cloth turn into a more trendy style and gorgeous look ever. Moreover, it assures you a different look when you adopt this way to tie a scarf as a top.  
Halter neck with chain necklace
Make an attractive top with a silk scarf by using a chain necklace in the following way, To adopt this stunning look;
Choose a stole and make it a triangle

Take the middle corner of the fabric and wrap it over your bust

Wear a chain necklace by passing it through it, from the middle of your chest

Turn the remaining two edges of the scarf and tie at your back

Thus a chain necklace holds the fabric in a versatile way and makes a perfect shirt like  
This look will mold your persona into a more sleek and modish look. So, opt for this style to tie a scarf as a top to attain a more splendid peer in a gathering. 
Wrap the scarf as a bolero
There is another gorgeous and more distinct look you may get when you carry a scarf as a top. You may wrap the fabric as a bolero. So, move to opt for this style of top.  
Put a beautiful bralette and drop a scarf around it

Pull one of the sides of it from one side of your breast 

In the same way, pull the other side to the other side of your breast

Bring both ends of the scarf behind your neck

After that tie both the ends of the cloth and make a knot
A more stunning look by wearing a scarf as a bolero grants you the best choice for summer wear.