Hair are assumed as the symbol of beauty forever. Everyone needs to care for them. But due to certain reasons, people suffer from hair falls. Now it has not been related to age. So, are you worried about your hair fall problem? Then this guide will really prove very fruitful for you. Because here you will know how to stop hair fall with onion. Just scroll down and learn the best remedies for said issue.
Why does hair fall happen
Before moving for the remedies regarding how to stop hair fall with onion, it is essential to know about the actual causes of it. Medically, it is termed as Telogen effluvium. Like other health problems, hair fall is also caused by various reasons;
Alopecia areata: It is actually an autoimmune disease that causes sudden hair fall.
Traction alopecia: This is a situation of hair breakage occurs due to tight hairstyles.
Nutritional deficiencies: If various nutrients like certain vitamins, iron, and protein especially keratin are in insufficient amount, then it will lead your hair loss.
Pregnancy: Decrease in estrogen hormone while pregnancy causes severe hair loss.
Medications: Side effects of certain medications can cause to shed hair.
Birth-Control pills: Some drugs like Desogen, ortho-cept and other birth-control pills also cause hair fall.
Infection: Some bacterial and fungal infections may lead to hair fall as well.
All of these are usual causes of hair falling. But if you want to figure out how to stop hair fall with onion, you have to move on to some remedies to cope with all of the above situations.
Why Onion use to stop hair fall
There are numerous benefits you may see regarding how to stop hair fall with onion. Some of them are given as below;
Onion provides nourishment to hair follicles and restores those nutrients that are lost by hair fall. In this way, it improves hair growth.
It is sulfur-enriched that controls the breakage of hair and helps in the thickness of hair by preventing thinning hair. That means your hair may get more volume by treating them with onion.
It has antibacterial and antifungal properties that help to prevent dandruff in scalps and cure any scalp infection. And controls hair loss.
Regular use of onion juice in hair provides a great shine to hair. Thus, your hair may become lustrous and shiny with reducing hair fall.
While massaging of onion juice in hair scalps improves blood circulation. When blood circulation is better, then the growth of hair will be better as well.
How to stop hair fall with onion
No doubt you hear multiple remedies to stop hair fall. But here you see the most useful ways to control hair falling by onion with no side effects as such. Countless benefits are associated with onion. So if you follow the given ways to learn how to stop hair fall with onion, you may get rid of this problem.
Prevent hair fall by onion juice in various ways
Are you wondering to know how to stop hair fall with onion? Then your awe will come to end after perceiving various panacea in this regard.
There are more than one ways to use onion juice to stop hair fall. Let's put a glance at them…
Direct applying of Onion Juice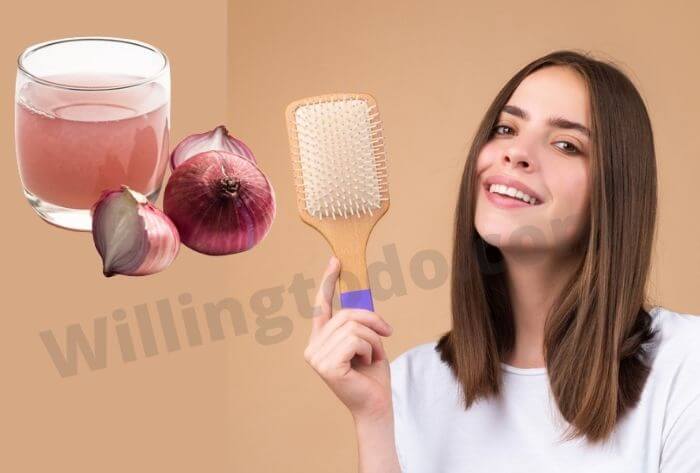 Just like applying any hair oil to hair, it is easy to use onion juice as well. Because onion juice will also assist you to know how to stop hair fall with onion. To learn how it is possible, see the following directions;
 Take a large-sized red onion, and blend it well.
 Stain the blended onion or onion paste to get its juice by a sieve.
Collect the onion juice in a small bowl or may pour it into a bottle.
Take a tail comb and separate the hair in the center of the head.
Dip a cotton ball in the onion juice and apply to your scalps thoroughly
Well-massage in your scalp after applying onion juice.
Leave it for at least 2 hours and wash your hair with cold water.
If you want the best result and can tolerate the sharp pungent smell of onion, you can apply this onion juice at night. Because, as it will remain in your scalps and roots of the hair, it will strengthen them. Ultimately, the mystery related to how to stop hair fall with onion will sort out frequently.
To get the best outcome of this remedy, you have to follow this at least twice a week.
Precautions:
Although using onion as an anti-hair fall solution is a safe method, but due to having huge sulfur content, it irritates the skin. So, you can use some soothing agents in the onion juice, like coconut oil, aloe vera gel, or honey.
Moreover, onion is well-known for its pungent odor. So, you can add some essential oils or baby oil to the onion juice. Additionally, you may also add orange peel to it. It helps to reduce the sharp smell of onion. Thus it will become a tremendous organic hair treatment.
If any guy suffers from any allergic reaction, then he/she must avoid moving for this anti-hair fall solution.
Add Onion Juice in your Shampoo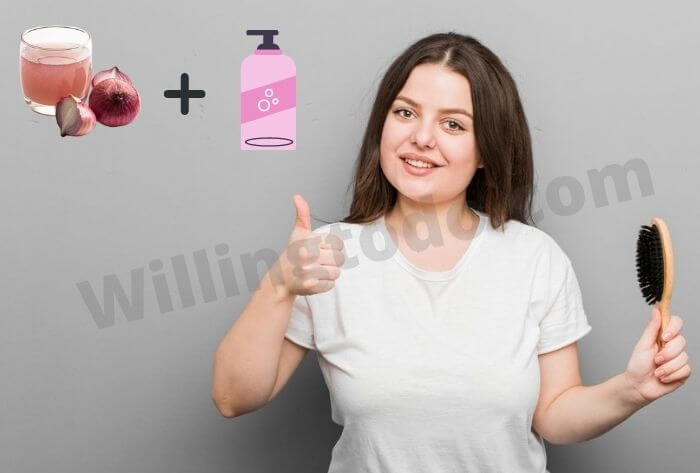 If you can tolerate the acrid smell of onion, then you can add it to your regular-used shampoo apart from its direct use on your scalps. You may add onion to your shampoo in two forms; either chop it finely or fetch its extract and pour it into the bottle of your shampoo.
Apply onion mixed shampoo to your hair and rinse well with cold water. The smell of onion will remain up to one hour after wash. Thus, it is also assumed as the best way to know how to stop hair fall with onion.
If you want to relieve such a suffocating odor of onion, then you may apply conditioner to your hair, even after using shampoo. But it is not necessary. Without conditioning, it will work anyway. Just wait for an hour and get rid of the bad smell.
Use a mixture of Egg & Onion Juice
The egg is full of protein content that helps your hair in nourishment and makes them healthy. While onion improves your hair growth and provides strength. So, making a hair mask of egg with onion juice presumes the best retort to how to stop hair fall with onion.
To make a fine hair mask of egg and onion juice, follow these steps;
Fetch a large egg in a bowl
Add 1 tbsp of onion juice to it
Mix it until both ingredients are well combined
Thoroughly apply this mask on your scalps and along the length of your hair
Wear a shower cap to avoid any mess
Leave your hair for 1-2 hours
Then wash with a mild shampoo and cold water
Moreover, you can make hair packs of onion juice with various natural constituents. Like honey, aloe vera, ginger, castor oil, olive oil, etc… All of these grant you effective results. Thus, you may sort out your problem of how to stop hair fall with onion. Because onion is the best natural component that stimulates hair growth.