Pipe smoking is a learning activity. It can be defined as the world's last greatest secret religion with good causes. Learning about how to smoke a pipe needs more knowledge and practice to get the highest benefits but other kinds of smoking or all the enjoyments activities are simple and easy to learn.
In the past, all pipe smokers get information through analysis and wrong experiments or get advisory instructions from expert smokers.
It was regularly promoted through the expert smokers who gather in a club to exchange information, news, and tips related to pipe smoking. Here we have prepared a guide to help and guide you on how to smoke a pipe.
Things That Required for the pipe
A pipe. I suggest you start with a corncob pipe. It may sound a little bit wired, but it's best for the starters because it's cheap and easy to use.
Pipe tamper/tool. It's not essential; this is very effective in pressing the tobacco.
Pipe cleaners. It's for wiping your pipe when you're done. Most brands will happily give you some without any charge.
Wooden matches or a pipe lighter.
Tobacco. Tobacco is available in different varieties, flavors, and brands. I suggest you start with a mixed taste.
How to Smoke a Pipe
Follow the below-mentioned steps to learn how to smoke a pipe and how to clean it.
Fill the Bowl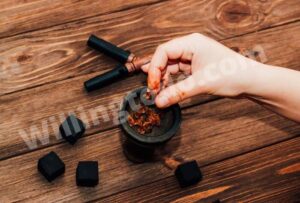 This is the most important and difficult to learn, but it changes the whole smoking process. Fill the pipe bowl smoothly with tobacco and press it softly downward by the temper. The bowl was now loaded half from the bottom. Put some more tobacco to the top and press it down lightly. Now the bowl is almost 3/4 loaded.
Again add some more tobacco and press it down tightly. There should be a little space between the tip of the bowl and the tobacco.
Take a test
In order to determine how to smoke a pipe, put the pipe into your mouth and take a sip for the test. If the air moves easily from tobacco, your test draw is accurate, and your pipe is ready to light up.
If the air can pass smoothly from the tobacco, it means it's filled so tightly. in this situation, remove the tobacco and fill it again.
Light up the Pipe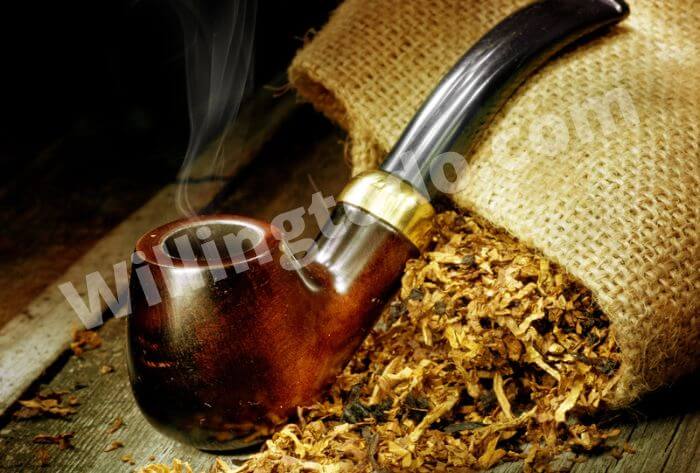 Using the wooden match is best because it's cheaper and easy to use. Pipe lighters are specially made for tobacco pipes and don't modify and change the tobacco taste.
If you are using a matchbox for lighting your pipe, scratch it and burn it for a moment until the Sulphur is off. Move the match stick on the top of the pipe in a circular motion and take gentle draws on the pipe.
Do this until the tobacco lightens up evenly. Now it's ready to smoke.
Stay calm while smoking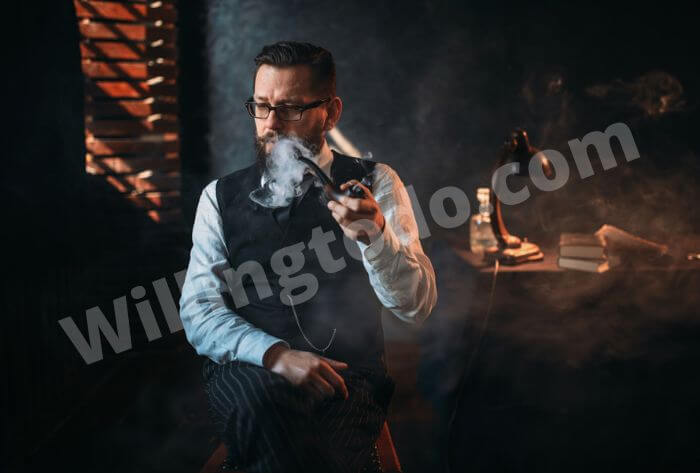 It's a marathon of the stay and steady. If you inhale the smoke too quickly, you will feel a sensation like burning on your tongue, which is called a tongue bit. Your pipe may go out of your mouth 2 to 3 times while you are smoking, but it's fine.
Stay calm, relax and enjoy the smoke. If your friend is smoking your pipe, it may go more as you talk, and experience the taste of tobacco.
Tip for how to smoke a pipe
Although, you have figured out how to smoke a pipe. But here are some particular tips you have to know. Like;
If you notice that your pipe starts gurgling, it means that your pipe is moister than enough. Take your pipe out, use a pipe cleaner for cleaning the pipe, set it at the end of the pipe for a while, and clean the moisture.
Try to keep your mouth dry as much possible as you can and avoid this gurgling situation.
If your pipe becomes too hot and you feel hot on your hand, put it aside for a minute, and try to reburn it.
If you burn your pipe more than enough, burning changes, the taste of your pipe.
Don't clean your pipe until it becomes cool.
Pipe effects on health
It's not necessary that if you learn something then that's always right for you. As you have determined how to smoke a pipe, some health concerns are also related to that.
Smoking starts illness and inability and hurts almost every part of the body. More than 16 million Americans are suffering from disorders caused by smoking. For anyone who dies due to smoking, a minimum of 30 people exist with severe smoking-related diseases.
Smoking begins with cancer, heart disorder, stroke, lung infections, and diabetes, including emphysema and persistent bronchitis. Smoking also raises the chance of disease, some eye disorders, and immune system difficulties, including rheumatoid disease.
Conclusion
How to smoke a pipe, start by picking your fancied flavor and cut free tobacco, then load the pipe's bowl with about 3 cramps of the free coats. Next, burn the tobacco in the pipe bowl using a wooden match or pipe lighter while pulling on the mouthpiece with deep, even draws. Once the pipe is lit, smoke with petite, random draws, holding the smoke in your mouth first then sniffing it into your lungs. Press down the tobacco and burn the pipe as required until you have done!