If you are a Cajun Lover then you must taste the Boudin. It is also referred to as Boudin rouge and is known for its signature sausage in France and Louisiana. Well, here you will come to know the directions of how to cook Boudin­– Cajun stuffed blood sausages. Stay here to get the full recipe and different modes to cook boudin.
How to Cook Boudin
Your problem of what the dish has to cook today is going to be sorted out. Let's move to know about how to cook boudin – the best appetizing recipe with Cajun seasoning. So, first, you have to come to know the secret ingredients in this respect.
Ingredients:
Ground Andouille Sausages          1 lb
Chicken liver                                    ½ lb
White Rice (cooked)                       4 cups
Unsalted Butter                               2 tbsp
Chicken Broth                                  2 cups
Clam juice                                         1 cup
Worcestershire Sauce                    1 tbs
Red wine                                          ½ cup
For Boudin Dressing
Red Onion (Fine Chopped)           ½ cup
Garlic (Chopped)                           3 cloves
Fresh Parsley (Chopped)              ½ cup
Jalapenos (Chopped)                    1 red, 1 yellow, 1 green
Bell paper (Chopped)                   1 whole piece
Scallions (Chopped)                      ½ cup
Celery stalk                                    1 stem
For Cajun Seasoning
Kosher salt                                      1 tbsp
Freshly ground black pepper       2 tbsp
Cayenne pepper                             1 tsp
Red chili Powder                             ½ tsp
Steps to cook the Cajun stuffing Boudin
To find the proper directions for how to cook Boudin– Cajun stuffed blood sausages, Just follow the given recipe.

Prepare Dressing of Boudin
The very first step in figuring out how to cook boudin is to prepare the dressing for it. Cut the veggies; onion, garlic, parsley, jalapenos, bell pepper, scallions, celery stalk in finely chopped form, and put all of these in a bowl. The healthy dressing of Boudin is ready for further process. (See "Ingredients" to know about quantities of all these veggies)
Directions of Preparation
Take 1 lb ground Andouille blood Sausages (you may take pork or crawfish links). Remove the skin and put it in a deep vessel. Put the vessel on a stove, on medium flame. Mash them with a masher. Add unsalted butter to it and mix them.
Now add all the chopped veggies to the pot and mix coarsely.
Then add 1 cup of Clam juice, ½ cup of red wine, ½ lb chicken liver, and 2 cups of chicken broth in the veggie-andouille mixture.
Add Cajun seasoning; kosher salt, freshly ground black pepper, cayenne pepper, red chili powder; and Worcestershire sauce in the pot. And cover the lid for 30 min.
After half an hour, Andouille would be fully cooked. Now turn off the flame.
Then put the whole cooked veggie-andouille mixture in a grinder and allow it to fine grinding. Then sift the whole grounded mixture by sieve and keep aside the leftover broth of the mixture.
Now take 4 cups of white cooked rice in a bowl and broth of the mixture in it. Keep this bowl in a cooker until the rice fully absorbs the broth.
Stuffing of Boudin
The most crucial step in the phase of how to cook boudin is stuffing. For this, take a sausage maker and add the cooked Andouille in the rubber filler knotting from the edge, and put it over the sausage maker. When you get the desired length of the sausage, you may cut them.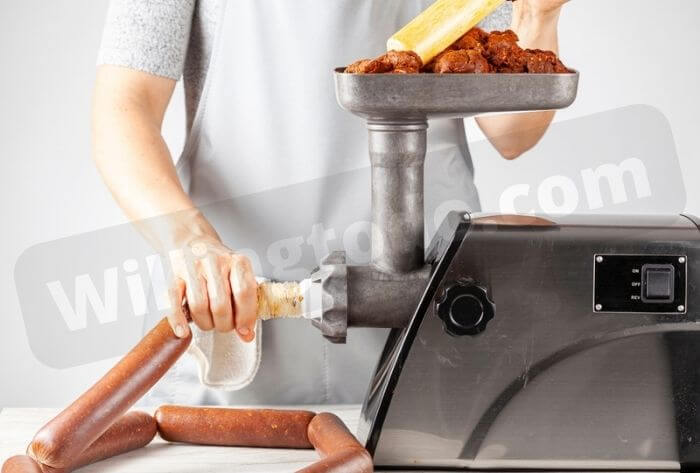 Make 7-8 sausages by it. Wait..! still, there is the last step that is just a little bit away to make them your bite.
Fry the sausages
Remove the rubber film from the sausages. Ad 2-3 tbs oil in a pan and put the sausages link in a pan for deep fry until golden brown color will appear.
Now your patience has come to cease and just enjoy the hunger-burst Boudin that is Cajun stuffed blood sausages.
Different modes to Cook Boudin
There are different modes to cook Boudin, if you want to be aware of how to cook boudin in different ways then keep reading…
No doubt, I've described the only single method to turn the boudin in final edible form. But there are some other ways aside. You can follow any convenient mode among these.
How to Bake
The most optimistic way for how to cook boudin is baking. To bake them, preheat your oven at 275-300°F. Take a cookie or pizza pan and grease with oil. Place the links on the sheet pan. Bake these sausages for 25-30 min to turn the boudin light golden to a golden brown.
Microwave
Place the links on a microwave plate and cover them with a paper towel to avoid splatter. Turn on the heat for 2-3 min until the links become fully cooked with dazzling golden color. Make sure the center of the boudin is hot and steamy.
How to Grill
Here is another method regarding how to cook boudin is the grill. For this purpose, firstly, wrap the sausages with a plastic sheet or may place them in an air-tight container to keep their texture in the same original form. Like the microwave, the grill must be preheated at medium-low temperature. Then put the sausages on the grill and leave for 2-3 min until they become golden and light crispy.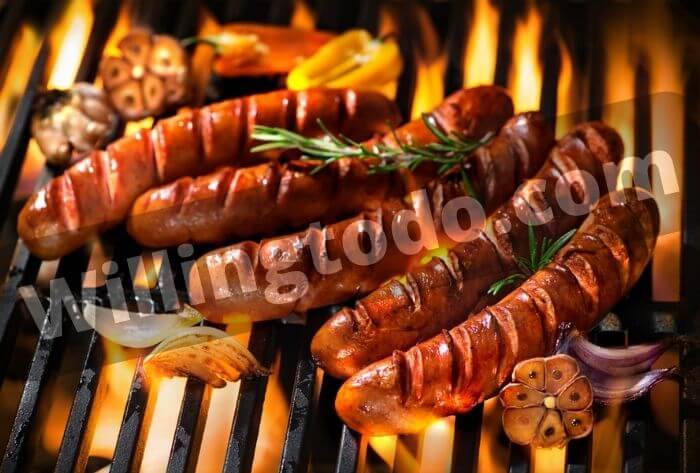 If you want to bring full crispy touch in boudin then you may put them directly on the grill without plastic wrapping.
Steam cooking
If you want to know how to cook boudin, take a steamer. Rice-steamer assumes more convenient than others. Pour enough water into the bottom of the steamer. Put the sausage links in the steamer. Then allow steam for 10-15 minutes. After 15 min, boudin is ready to eat.
Poaching
Just take a stockpot, add season water blended with Cajun seasoning, and allow it to boil. Put the boudin links in water and bring up the water again to near-boiling. If water is fully boiled then the sausages will be cracked. Continue to cook for 10-15 min without covering the pot, and until the casings are fully cooked.
How to serve
When any dish has been fully prepared, then the most important thing is to serve or present it. So, to serve the Cajun flavored sausages is also so crucial regarding how to cook boudin. Some of the serving suggestions may be valuable, i.e.;
You may cut them into pieces of your desired size.
You may serve them as a whole.
Moreover, you can serve the links with your favorite pickle as well, the okra pickle assumes as more appropriate with the boudin.
Links of boudin have proved the more suitable dressing for sandwiches.
you may serve the links with garlic bread as well.
These sausages are also the best combo with egg in breakfast.